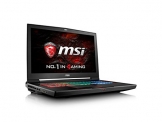 MSI GT73VR Titan Pro 201 Extreme Gaming Laptop (GTX 1080 i7-6820HK 64GB 1TB SSD)
$2499.99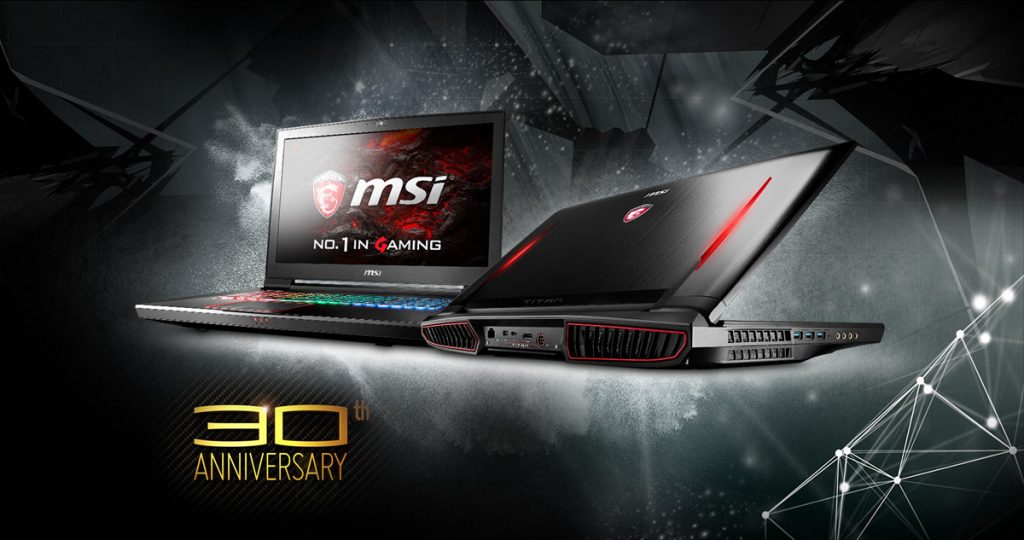 Deals & Coupons Detail Info
Amazon.com offers the MSI GT73VR Titan Pro 201 Extreme Gaming Laptop for $2499.99.
Estimated shipping weight 17 lbs.
不能直邮到海外,建议走转运,近期低价,发货重量约17磅。
MSI GT73VR Titan Pro 201 Extreme Gaming Laptop
With the MSI GT73VR Titan Pro 201 Extreme Gaming Laptop you'll be able to experience VR games and applications for a different level of computing. It's equipped with a 2.7 GHz Intel Core i7-6820HK Quad-Core processor and 64GB of 2400 MHz DDR4 RAM, so you can efficiently multitask and quickly access frequently used files and programs. When handling a heavy workload, the CPU can reach up to 3.6 GHz with Intel Turbo Boost technology.
Its 17.3″ anti-glare display has a 1920 x 1080 resolution so you can enjoy crisp and clear content. Furthermore, it has a 120 Hz refresh rate and a 5 ms response time that provides you with smoother animations, ideal for watching sports and playing fast-paced first person shooter or racing games. Graphics are handled by a NVIDIA GeForce GTX 1080 graphics card with 8GB of GDDR5X VRAM, which lets you enable additional graphical options and crank up in-game visual settings so you can enjoy games at their best. Connect external displays using its HDMI and Mini-DisplayPort for more screen real-estate and multitasking capabilities.
Keep your files and games stored in its two 512GB PCIe SSDs in Super RAID 4 and 1TB 7200 rpm HDD. Because SSDs are constructed without any moving parts, they can perform faster and endure more than the traditional hard drive. Moreover, since the SSD is PCIe-based, it will run much faster compared to ones using a SATA interface. With it, you'll be able to boot up and load files, games, and applications in seconds. The 1TB hard drive on the other hand, won't run nearly as fast; however, its large capacity makes it ideal for storing photos, videos, and other large format files. Should you need more room, you can connect external storage devices using its multiple USB ports, media card reader, and Thunderbolt 3 port.
Access the Internet using 802.11ac Dual-Band Wi-Fi, which lets you connect to the 5 GHz band for faster speeds, or the Gigabit Ethernet port for a more stable and reliable wired connection. If you run out of USB ports or would rather save them for other devices, you can pair compatible wireless peripherals using Bluetooth 4.1 technology. Other integrated features include speakers, microphones, a subwoofer, a 1080p webcam, audio-in and -out jacks, as well as a backlit keyboard with anti-ghosting. Additionally, the GT73VR Titan Pro comes with a backpack so you can carry it around. The operating system installed is Windows 10 Home.
Windows 10
Latest 6th Generation Intel® Core™ i7-6820HK processor
Next Generation VR Ready graphics with NVIDIA GeForce® GTX1080 8GB GDDR5X
64GB (16GB x4) DDR4 2400MHz
Super RAID 4 1TB SSD (PCIE Gen3 x4) NVMe [512GB *2] + 1TB (SATA) 7200RPM
17.3″ FHD, Anti-Glare IPS-Level Wide View Angle, 120Hz 5ms Monitor
Stay cool in the heat of gaming with Cooler Boost Titan
Accurate,  responsive and programmable gaming keyboard by SteelSeries
Powerful personalization and customization with the Dragon Center application
Immersive audio experience with Dynaudio Speakers + Subwoofer
360° virtual surround sound powered by Nahimic
Use both wired and wireless networking with Killer DoubleShot Pro
Thunderbolt 3 certified, USB 3.1 Type-C interface supports dual 4K external monitors and portable charging power up to 5V/3A
这款MSI GT73VR Titan Pro 201 Extreme Gaming Laptop微星17英寸游戏笔记本,属于GT73VR系列中的旗舰配置,采用Intel i7-6820HK Quad-Core 处理器,4根16GB共64GB DDR4 2400MHz内存,采用Nvidia最新最高端的GeForce GTX 1080显卡,显存为8GB GDDR5X,硬盘也疯狂的使用了Super Raid 4 1TB NVMe SSD(3300MB/s) + 1TB 7200转机械硬盘的组合,屏幕为17.3英寸广色域IPS屏,性能达到94% NTSZ,120HZ刷新率, 5ms响应时间,分辨率为1080P,整体性能极为强劲,微星为此也是不惜用料,内置高品质的音响系统,接口方面更是异常丰富,Killer LAN口,MINI DP v1.2口,雷电Thunderbolt 3接口,HDMI 1.4接口,蓝牙Bluetooth 4.1接口,全身共5个USB 3.0接口等,是游戏玩家的明智之选。
Display: 17.3" FHD Anti-Glare Wide View Angle 120Hz 5ms 94% NTSC 1920x1080 | Operating System: Windows 10
Processor: Intel Core i7-6820HK Quad Core Processor (2.7-3.6GHz)
Graphics Card: NVIDIA's Latest GeForce GTX 1080 8GB GDDR5X
Usually ships in 2-3 business days
Last update was on: September 24, 2020 14:34
Display: 17.3" FHD Anti-Glare Wide View Angle 120Hz 5ms 94% NTSC 1920x1080 | Operating System: Windows 10
Processor: Intel Core i7-6820HK Quad Core Processor (2.7-3.6GHz)
Graphics Card: NVIDIA's Latest GeForce GTX 1080 8GB GDDR5X
RAM: 64GB (16GB x4) DDR4 2400MHz | Hard Drive: Super RAID 4 1TB SSD (PCIE Gen3 x4) NVMe [512GB *2] + 1TB (SATA) 7200RPM
Special features: VR READY | 120Hz 5ms Monitor | Steel Series Full Color Backlight Keyboard w/ Anti-Ghost Key + Silver Lining | Thunderbolt 3 | Dual Killer Gaming Network E2400 | Killer N1535 Combo | Metal Build
17.3 inches FHD, anti-glare IPS-Level wide view angle
CPU: Intel Core i7-6820HK 2.7 - 3.6GHz w/ Turbo boost
Memory: 16GB (8GB x2) DDR4 2400Mhz
HDD capacity: 128GB SSD (PCIe Gen3x4) + 1TB 7200rpm
OS: Windows 10
Usually ships in 24 hours
Last update was on: September 24, 2020 14:34
17.3 inches FHD, anti-glare IPS-Level wide view angle
CPU: Intel Core i7-6820HK 2.7 - 3.6GHz w/ Turbo boost
Memory: 16GB (8GB x2) DDR4 2400Mhz
HDD capacity: 128GB SSD (PCIe Gen3x4) + 1TB 7200rpm
OS: Windows 10
Latest 6th generation Intel Core i7-6820HK Processor
17.3" UHD, 4K eDP IPS-Level
Windows 10
Memory: 16GB (8GB x2) DDR4 2400Mhz
Storage: 1TB SATA HDD (7200rpm)
Usually ships in 24 hours
& Free shipping
Last update was on: September 24, 2020 14:34
Latest 6th generation Intel Core i7-6820HK Processor
17.3" UHD, 4K eDP IPS-Level
Windows 10
Memory: 16GB (8GB x2) DDR4 2400Mhz
Storage: 1TB SATA HDD (7200rpm)
Display: 17.3" 120Hz 5ms Full HD | Anti-Glare Wide View Angle 1920x1080 | Operating System: Windows 10
Processor: Intel Core i7-7820HK (2.9-3.9GHz)
Graphics Card: NVIDIA's GTX 1070 8G GDDR5
RAM: 16GB (8GB x2) DDR4 2400MHz | Hard Drive: 256GB SSD (PCIE Gen3x4) + 1TB (SATA) 7200rpm
Usually ships in 24 hours
& Free shipping
Last update was on: September 24, 2020 14:34
Display: 17.3" 120Hz 5ms Full HD | Anti-Glare Wide View Angle 1920x1080 | Operating System: Windows 10
Processor: Intel Core i7-7820HK (2.9-3.9GHz)
Graphics Card: NVIDIA's GTX 1070 8G GDDR5
RAM: 16GB (8GB x2) DDR4 2400MHz | Hard Drive: 256GB SSD (PCIE Gen3x4) + 1TB (SATA) 7200rpm
Special features: VR READY | Super Raid 4 | Backlit LED Steel Series Keyboard | Thunderbolt 3 | Dual Killer Gaming Network E2400 | True Color Technology
17.3" FHD, anti-glare IPS-Level wide view angle
CPU: Intel Core i7-6820HK 2.7 - 3.6GHz w/ Turbo boost
Memory: 16GB (8GB x2) DDR4 2400Mhz
HDD capacity: 128GB SSD (PCIe Gen3x4) + 1TB 7200rpm
OS: Windows 10
Usually ships in 24 hours
& Free shipping
Last update was on: September 24, 2020 14:34
17.3" FHD, anti-glare IPS-Level wide view angle
CPU: Intel Core i7-6820HK 2.7 - 3.6GHz w/ Turbo boost
Memory: 16GB (8GB x2) DDR4 2400Mhz
HDD capacity: 128GB SSD (PCIe Gen3x4) + 1TB 7200rpm
OS: Windows 10
Display: 17.3" UHD | 4K eDP IPS-Level 3840x2160 | Operating System: Windows 10 PRO
Processor: Intel Core i7-7820HK (2.9-3.9GHz)
Graphics Card: NVIDIA's GTX 1080 8G GDDR5X
RAM: 16GB (8GB x2) DDR4 2400MHz | Hard Drive: 256GB SSD (PCIE Gen3x4) + 1TB (SATA) 7200rpm
Usually ships in 24 hours
& Free shipping
Last update was on: September 24, 2020 14:34
Display: 17.3" UHD | 4K eDP IPS-Level 3840x2160 | Operating System: Windows 10 PRO
Processor: Intel Core i7-7820HK (2.9-3.9GHz)
Graphics Card: NVIDIA's GTX 1080 8G GDDR5X
RAM: 16GB (8GB x2) DDR4 2400MHz | Hard Drive: 256GB SSD (PCIE Gen3x4) + 1TB (SATA) 7200rpm
Special features: VR READY | Super Raid 4 | Backlit LED Steel Series Keyboard | Thunderbolt 3 | Dual Killer Gaming Network E2400 | True Color Technology
Display: 17.3" 120Hz 5ms Full HD | Anti-Glare Wide View Angle 1920x1080 | Operating System: Windows 10
Processor: Intel Core i7-7820HK (2.9-3.9GHz)
Graphics Card: NVIDIA's GTX 1080 8G GDDR5X
RAM: 16GB (8GB x2) DDR4 2400MHz | Hard Drive: 256GB SSD (PCIE Gen3x4) + 1TB (SATA) 7200rpm
Usually ships in 24 hours
& Free shipping
Last update was on: September 24, 2020 14:34
Display: 17.3" 120Hz 5ms Full HD | Anti-Glare Wide View Angle 1920x1080 | Operating System: Windows 10
Processor: Intel Core i7-7820HK (2.9-3.9GHz)
Graphics Card: NVIDIA's GTX 1080 8G GDDR5X
RAM: 16GB (8GB x2) DDR4 2400MHz | Hard Drive: 256GB SSD (PCIE Gen3x4) + 1TB (SATA) 7200rpm
Special features: VR READY | Super Raid 4 | Backlit LED Steel Series Keyboard | Thunderbolt 3 | Dual Killer Gaming Network E2400 | True Color Technology