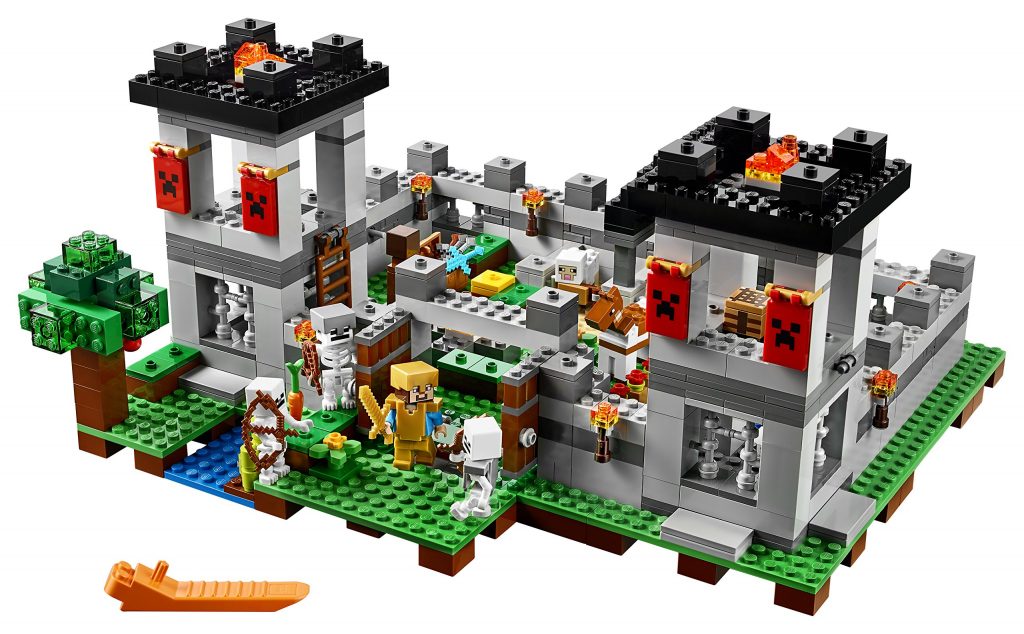 Deals & Coupons Detail Info
Amazon.com offers the

LEGO Minecraft 21127 The Fortress Building Kit

for $67.00.
Estimated shipping weight 2.4 lbs.
不能直邮到海外,建议走转运,近期低价,发货重量约2.4磅。
LEGO Minecraft 21127 The Fortress Building Kit
Defend The Fortress!
Protect your livestock and defend the awesome fortress against the ensuing skeleton army! Enjoy hands-on Minecraft adventures featuring your favorite characters and objects with this easy-to-rebuild, modular LEGO Minecraft set—designed for young fans of the highly successful sandbox video game. Includes a Steve minifigure, plus a horse, sheep and 3 skeletons.
Features a Minecraft fortress with large pressure-plate doors, lookout towers, decorative Creeper banners, barred windows, water and farm areas and a prison with door-opening function.
Features a Minecraft fortress with large pressure-plate doors, lookout towers, decorative Creeper banners, barred windows, water and farm areas and a prison with door-opening function

Accessory elements include Steve's golden armor and golden helmet, armor stand, armor, helmet, crafting table, weapons chest and a hay bale

Includes a Steve , plus a horse, sheep and 3 skeletons

Measures over 6″ (16cm) high, 13″ (33cm) wide and 13″ (34cm) deep

Press the pressure plate to open the fortress doors, Light the fires and torches to ward off the approaching skeleton army
这款LEGO乐高我的世界之堡垒要塞,货号为21127,作为2016年下半年推出的新品,共含984个颗粒,整体拼装完成的尺寸约16X33X34厘米,内含6个公仔玩偶,要塞堡垒,自然整体气势给力,我的世界乐高迷可以考虑。
Features a Minecraft fortress with large pressure-plate doors, lookout towers, decorative Creeper banners, barred windows, water and farm areas and a prison with door-opening function
Accessory elements include Steve's golden armor and golden helmet, armor stand, armor, helmet, crafting table, weapons chest and a hay bale
Usually ships in 24 hours
& Free shipping
Last update was on: October 24, 2020 00:41
Features a Minecraft fortress with large pressure-plate doors, lookout towers, decorative Creeper banners, barred windows, water and farm areas and a prison with door-opening function
Accessory elements include Steve's golden armor and golden helmet, armor stand, armor, helmet, crafting table, weapons chest and a hay bale
Includes a Steve , plus a horse, sheep and 3 skeletons
Measures over 6" (16cm) high, 13" (33cm) wide and 13" (34cm) deep
Press the pressure plate to open the fortress doors, Light the fires and torches to ward off the approaching skeleton army