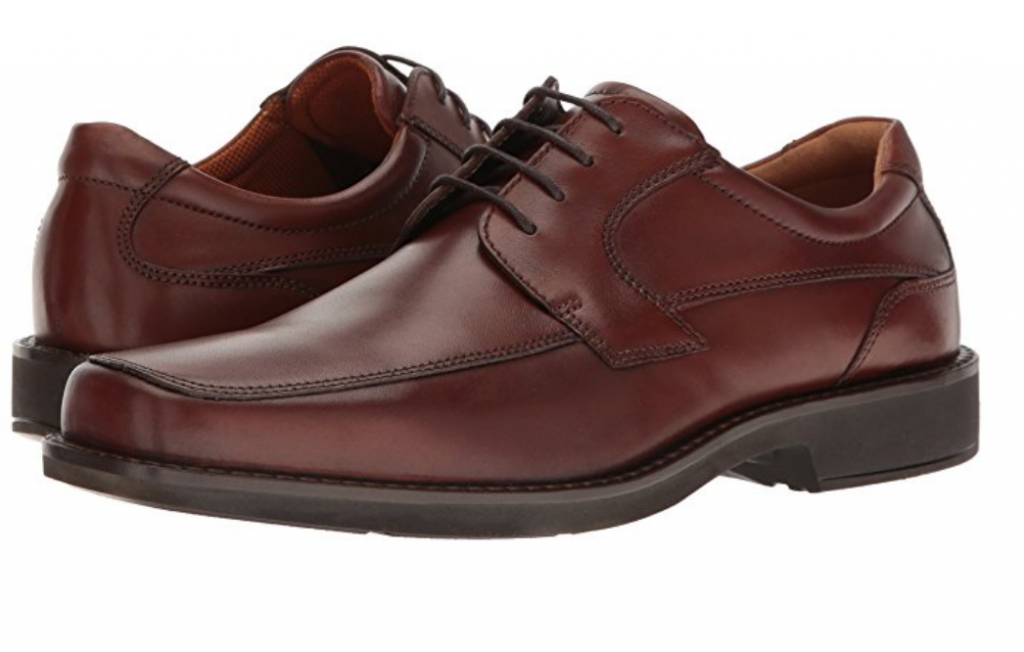 Deals & Coupons Detail Info
Amazon.com offers the 

ECCO Seattle Apron Toe Oxford

for

$66.87

.

Free Shipping to US on orders over $50.
Estimated shipping weight 2 lbs.
不能直邮到海外,建议走转运,近期低价,发货重量约2磅。
ECCO Seattle Apron Toe Oxford
Remember how the first steps as a child gave you the freedom to explore the world on your own. Step into the world of ECCO and find a renewed freedom to move forward, sideward and upward. At ECCO we go our own ways to reach new heights and fulfilling our dream. Something that requires an equal amount of passion, hard work and persistence but experience tells us that we will get there all together.
ECCO designs footwear to meet your needs, whether you're taking the stairs, walking around the city all day, or scrambling over rocky slopes; ECCO delivers superior fit, durability, support and flexibility. Our advanced construction techniques and continuous exploration in materials science add up to comfort you can count on. You'll notice the difference immediately – and at the end of an intense hike or after walking a dozen blocks uptown, you'll continue to appreciate the difference of ECCO.
Design meets premium construction in this smart men's casual shoe. Soft leather with perforations creates a sporty, on-trend look, but thanks to the gore-tex® surround™ water stays outside, keeping feet dry all day long. A durable two colored TPU outsole is grippy on uneven and slippery terrain, so you can step out in confidence.
ECCO is a European shoe company founded in Denmark in 1963. Today they own and operate factories throughout Europe and Asia. They produce all the leather used in making Ecco shoes, taking measures to protect the environment at the same time. Their sole aim is to make a comfortable walking shoe.
New pointy last shape combines simplicity and fashion for an on-trend look. uppers handcrafted from rich premium leathers with changeable heel flik ensuring utmost comfort and durability.
Leather

Imported

Synthetic sole

Platform measures approximately 0.5

A classic, comfortable shoe with soft and breathable leather uppers

Textile lining is highly breathable and moisture absorbent

Removable leather covered inlay sole with ecco comfort fibre system for increased air circulation

Airport friendly

Direct injected, pu sole with shock point and leather welt
  减震舒适,休闲百搭,限尺码福利~ ecco 爱步是世界四大休闲鞋类品牌之一,素以穿着舒适为人熟知,相比国内让人望而却步的标价,海淘的优势明显。这款ecco 爱步 Seattle Apron-Toe 男士休闲皮鞋,四孔系带正装款式,采用头层牛皮真皮材质,皮质柔软细腻,透气性好。内置植物鞣皮革鞋垫(Comfort Fibre System),促进了鞋内空气循环,加速水分吸收和排汗,起到干燥凉爽除异味的效果。鞋底与鞋面不是采用传统的胶合或缝合,而是与鞋身皮面融为一体,使鞋子具有一定的防泼水效果,鞋底小红点(或小黑点)减震系统提升穿着舒适感。
A classic, comfortable shoe with soft and breathable leather uppers
Textile lining is highly breathable and moisture absorbent
Removable leather covered inlay sole with ecco comfort fibre system for increased air circulation
Usually ships in 24 hours
& Free shipping
Last update was on: March 13, 2022 00:06
A classic, comfortable shoe with soft and breathable leather uppers
Textile lining is highly breathable and moisture absorbent
Removable leather covered inlay sole with ecco comfort fibre system for increased air circulation
Airport friendly
Direct injected, pu sole with shock point and leather welt