Dell Alienware Steam Machine ASM100-6980BLK Desktop Console
$519.99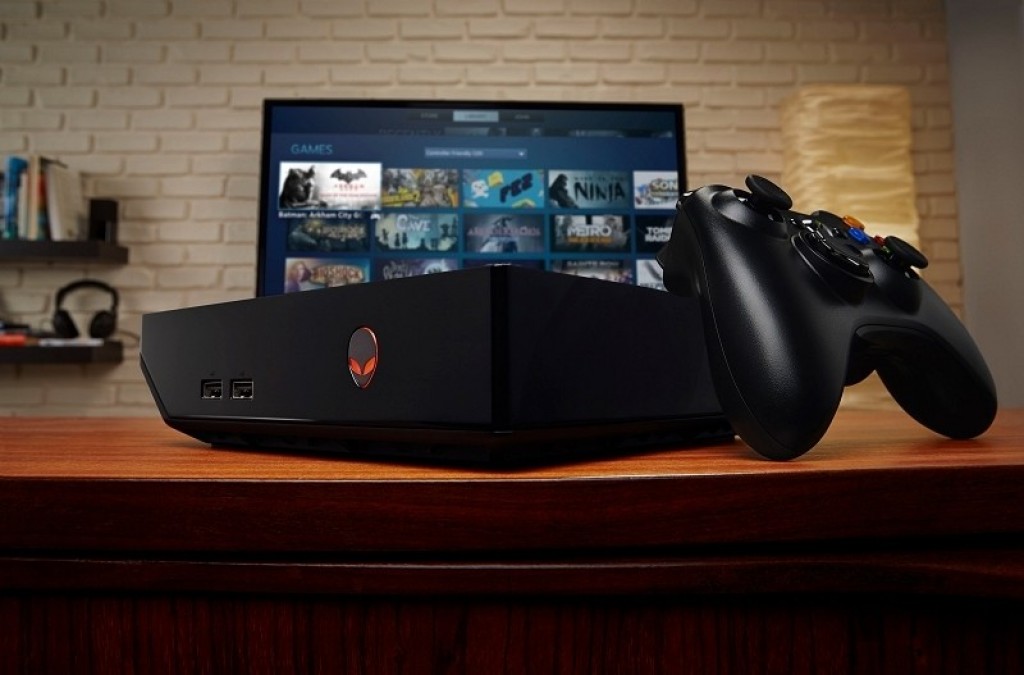 Deals & Coupons Detail Info
Amazon.com offers Dell Alienware Steam Machine ASM100-6980BLK Desktop Console for $519.99.
Estimated shipping weight 8 lbs.
不能直邮到海外,建议走转运,近期低价,发货重量约8磅。
Dell Alienware Steam Machine ASM100-6980BLK Desktop Console
Alienware is always driving gaming innovation forward. But it's not enough to keep up, we aim to set the pace. That's why a couple years ago, leaders from Alienware and Valve collaborated to expand PC gaming. From that simple idea a new custom-built box, engineered specifically to reinvent the Steam experience for the living room, with PC flexibility in a quiet, compact console was born. This is the Alienware Steam Machine
You'll experience powerful and immersive gaming with up to a high performance NVIDIA® GeForce® GTX 960 GPU 4GB GDDR5 graphics and Intel® Core™ processors. And with the innovative Steam Controller, you'll be able to move like never before.
Have a PC game that you want to play on your TV? Not a problem as you'll be able to play over 2200 games locally or stream any of the 8000 Steam games on your home network directly to your TV.
With the Alienware Steam Machine, you're not only getting easy access to thousands of your favorite Steam games; you're gaining entry to the largest community of gamers in the world with no membership fee included.
MASSIVE GAMES LIBRARY – Choose from thousands of native SteamOS games and over 6,000 additional games available via streaming. Free copy of Rocket League and Portal 2 included in all pre-sale purchases.
CONTENT – Comes bundled with in-game content and games, ready to play. Alienware Steam Machine will come bundled with free bonus content, including the complete versions of PAYDAY 2 GOTY Edition, Robot Roller-Derby Disco Dodgeball, SpeedRunners and Awesomenauts plus DLC, the M18 Black Cat Tank and XP-38G Lightning Plane in War Thunder.​
STEAM CONTROLLER – Unlock new games never played before with the Alienware Steam Controller – the ultimate living room gaming accessory (comes included).
MULTI-PLAYER – Play with up to 4 Steam Controllers at once.
POWERFUL GAMING – Equipped with up to NVIDIA® GeForce® GTX 960 GPU 4GB GDDR5 graphics and 6th Gen Intel® Core™ processors.
2.2 GHz Intel Core i7-4785T Quad-Core
8GB of 1600 MHz DDR3L RAM
NVIDIA GeForce GTX Custom GPU (2GB)
1TB Hard Drive
802.11ac Wi-Fi, Bluetooth 4.0
HDMI-in, HDMI-out
USB 3.0, USB 2.0, S/PDIF
Steam Controller Included
SteamOS
这款Dell Alienware Steam Machine ASM100-6980BLK Desktop Console外星人Steam Machine游戏主机,基本配置与Alienware Alpha基本一致,但是操作系统使用的是SteamOS,本次推荐的为高配版本,采用Intel Core i7-4785T处理器,搭配8GB内存,GeForce GTX 960显卡,1TB硬盘,具备HDMI、USB 2.0、USB 3.0、S/PDIF等多种接口,随机附送Steam无线游戏手柄。
Intel Quad Core i7-4785T 2.2 GHz Processor
8 GB DDR3L SDRAM RAM Included; 16 GB Maxium
1 TB HDD Storage; Optical Drive Not included; 5 USB Ports
No Monitor Included
Steam OS Operating System; Includes Steam Controller
Usually ships in 1-2 business days
Last update was on: November 11, 2023 07:43
Intel Quad Core i7-4785T 2.2 GHz Processor
8 GB DDR3L SDRAM RAM Included; 16 GB Maxium
1 TB HDD Storage; Optical Drive Not included; 5 USB Ports
No Monitor Included
Steam OS Operating System; Includes Steam Controller
Intel Quad Core i3-4170T 3.2 GHz Processor
8 GB DDR3L SDRAM RAM Included; 16 GB Maxium
1 TB HDD Storage; Optical Drive Not included; 5 USB Ports
No Monitor Included
Steam OS Operating System; Includes Steam Controller
Usually ships in 24 hours
& Free shipping
Last update was on: November 11, 2023 07:43
Intel Quad Core i3-4170T 3.2 GHz Processor
8 GB DDR3L SDRAM RAM Included; 16 GB Maxium
1 TB HDD Storage; Optical Drive Not included; 5 USB Ports
No Monitor Included
Steam OS Operating System; Includes Steam Controller
Intel Quad Core i5-4590T 2 GHz Processor
8 GB DDR3L SDRAM RAM Included; 16 GB Maxium
1 TB HDD Storage; Optical Drive Not included; 5 USB Ports
No Monitor Included
Steam OS Operating System; Includes Steam Controller
Usually ships in 24 hours
& Free shipping
Last update was on: November 11, 2023 07:43
Intel Quad Core i5-4590T 2 GHz Processor
8 GB DDR3L SDRAM RAM Included; 16 GB Maxium
1 TB HDD Storage; Optical Drive Not included; 5 USB Ports
No Monitor Included
Steam OS Operating System; Includes Steam Controller
Intel Core i3-4170T 3.2 GHz Processor with NVIDIA GeForce GTX GPU 2GB GDDR5
4 GB DDR3L SDRAM Included; 16 GB Maximum
500 GB HDD Storage; No Optical Drive
No Monitor Included
Windows 10 Operating System; Black
Usually ships in 24 hours
& Free shipping
Last update was on: November 11, 2023 07:43
Intel Core i3-4170T 3.2 GHz Processor with NVIDIA GeForce GTX GPU 2GB GDDR5
4 GB DDR3L SDRAM Included; 16 GB Maximum
500 GB HDD Storage; No Optical Drive
No Monitor Included
Windows 10 Operating System; Black
Intel Core i7-4785T 2.2 GHz Processor with NVIDIA GeForce GTX GPU 2GB GDDR5
8 GB DDR3L SDRAM Included; 16 GB Maximum
1 TB HDD Storage; No Optical Drive
No Monitor Included
Windows 10 Operating System; Black
Usually ships in 4-5 business days
Last update was on: November 11, 2023 07:43
Intel Core i7-4785T 2.2 GHz Processor with NVIDIA GeForce GTX GPU 2GB GDDR5
8 GB DDR3L SDRAM Included; 16 GB Maximum
1 TB HDD Storage; No Optical Drive
No Monitor Included
Windows 10 Operating System; Black