Black Friday

Optoma HD28DSE 1080p 3D DLP Home Theater Projector

$551.12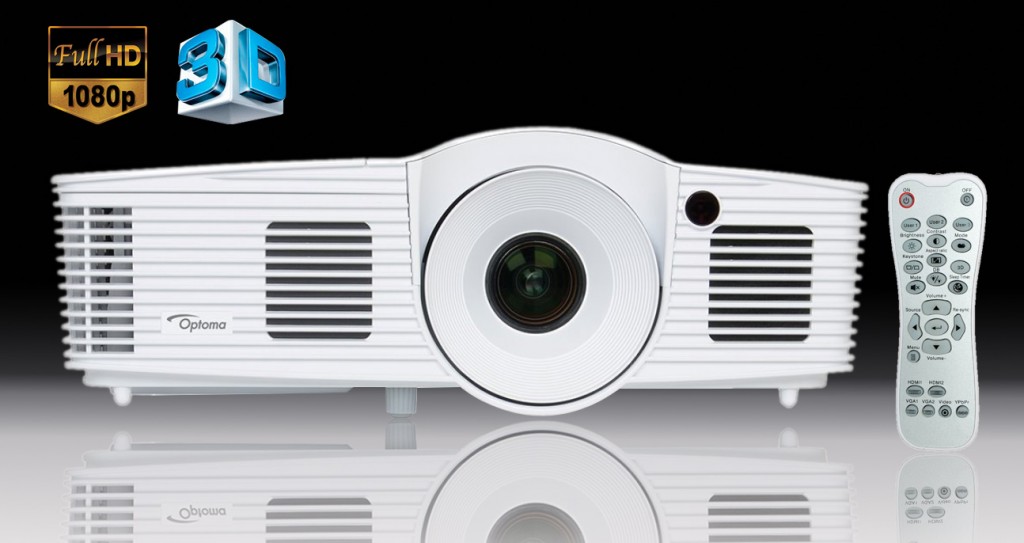 Deals & Coupons Detail Info
Amazon.com offers the Optoma HD28DSE 1080p 3D DLP Home Theater Projector for

$551.12

.
Estimated shipping weight 7 lbs.
不能直邮到海外,建议走转运,近期低价,发货重量约7磅。
Optoma HD28DSE 1080p 3D DLP Home Theater Projector
The Optoma HD28DSE 1080p 3D DLP Home Theater Projector is a powerful home cinema projector engineered to deliver an immersive experience with tremendous detail and jawdropping eye candy in Xbox One and PS4 games, Blu-ray movies, and set-top box HDTV programming. The integrated Darbee Image Enhancement Processor utilizes neuro-biologic algorithms to enhance detail and depth in skin tones, textures, and reflective surfaces while noise filtering produces amazing image clarity. The end result is video games, Blu-ray movies and HDTV programming that is simply mind-blowing and larger-than-life.
With Four Corner Adjustment the trapezoidal image can be quickly corrected by adjusting the corners of the image in or out, which simplifies installation and eliminates frustration.
The HD28DSE's features the latest and greatest digital media interface with support for MHL v1.2. MHL v1.2 enabled HDMI ports allow MHL devices such Optoma's HD Cast Pro, Roku's Streaming Stick and Smart Phones to connect directly to the projector to playback music and video, view pictures and even share web pages and other user generated digital media content.
Screen Size Range: 71-inches from 8 feet; 107-inches from 12 feet

3000 ANSI Lumens

Contrast Ratio: 30,000:1; Keystone Correction: Yes, Lens Shift: No

1-Year Limited Parts and Labor, 90-Days on Lamp

2x HDMI 1.4a with MHL (on port 1), 3D Sync Port, mini USB, USB-A (USB Power Only), 12V Trigger
本次推荐的这款Optoma HD28DSE 1080p 3D DLP Home Theater Projector奥图码家用高清投影仪,编号HD28DSE,采用了单片0.65英寸的DLP显示技术,支持最高1080P的分辨率,支持D功能,亮度达到3000流明,对比度高达30000:1的水准,灯泡的使用寿命可以达到4000个小时,如果在节能模式下使用,最长可以使用8000个小时。这款投影仪,采用了Darbee Visual Presence技术,能够全面的提升图像在细节、对比度、景深等方面的表现,画面衔接自然,效果非常优秀,性价比很高。
Screen Size Range: 71-inches from 8 feet; 107-inches from 12 feet
3000 ANSI Lumens
Contrast Ratio: 30,000:1; Keystone Correction: Yes, Lens Shift: No
1-Year Limited Parts and Labor, 90-Days on Lamp
2x HDMI 1.4a with MHL (on port 1), 3D Sync Port, mini USB, USB-A (USB Power Only), 12V Trigger
Usually ships in 1-2 business days
Last update was on: September 3, 2022 03:56
Screen Size Range: 71-inches from 8 feet; 107-inches from 12 feet
3000 ANSI Lumens
Contrast Ratio: 30,000:1; Keystone Correction: Yes, Lens Shift: No
1-Year Limited Parts and Labor, 90-Days on Lamp
2x HDMI 1.4a with MHL (on port 1), 3D Sync Port, mini USB, USB-A (USB Power Only), 12V Trigger
Screen Size Range: 66-inches from 8 feet; 107-inches from 12 feet
Brightness: 3000 ANSI Lumens
Contrast Ratio: 23,000:1; Keystone Correction: Yes, Lens Shift: No
Warranty: 1-Year Limited Parts and Labor, 90-Days on Lamp
Usually ships in 1-2 business days
Last update was on: September 3, 2022 03:56
Screen Size Range: 66-inches from 8 feet; 107-inches from 12 feet
Brightness: 3000 ANSI Lumens
Contrast Ratio: 23,000:1; Keystone Correction: Yes, Lens Shift: No
Warranty: 1-Year Limited Parts and Labor, 90-Days on Lamp
2 x HDMI (1.4a 3D support) + MHL v1.2, Audio Out 3.5mm, 12V trigger, 3D-Sync, USB service
Screen Size Range: 71-inches from 8 feet; 107-inches from 12 feet
Brightness: 3200 ANSI Lumens
Contrast Ratio: 25,000:1; Keystone Correction: Yes, Lens Shift: No
Warranty: 1-Year Limited Parts and Labor, 90-Days on Lamp
Usually ships in 24 hours
& Free shipping
Last update was on: September 3, 2022 03:56
Screen Size Range: 71-inches from 8 feet; 107-inches from 12 feet
Brightness: 3200 ANSI Lumens
Contrast Ratio: 25,000:1; Keystone Correction: Yes, Lens Shift: No
Warranty: 1-Year Limited Parts and Labor, 90-Days on Lamp
Inputs/Outputs: 2xHDMI 1.4a (MHL), 3D Vesa Sync Port, Audio Out 3.5mm, 12V Trigger, USB-A (Power)
Luminous SVGA projection with 3500 lumens and 22,000:1 contrast ratio
Extensive I/O support with HDMI, via-in, via out, composite video, audio-in and more
Serb display profile dazzles with Rec709 color accuracy
Usually ships in 1 to 3 months
& Free shipping
Last update was on: September 3, 2022 03:56
Luminous SVGA projection with 3500 lumens and 22,000:1 contrast ratio
Extensive I/O support with HDMI, via-in, via out, composite video, audio-in and more
Serb display profile dazzles with Rec709 color accuracy
Adjust the gamma output to match the color of the Projection surface with wall color adjustment
Hide jaggies and soft edges with edge mask
Low cost of ownership with 10,000 hour lamp life
Screen Size Range: 111-inches from 4 feet; 166-inches from 6 feet
2800 ANSI Lumens
Contrast Ratio: 25,000:1; Keystone Correction: Yes, Lens Shift: No
1-Year Limited Parts and Labor, 90-Days on Lamp
2 x HDMI (1.4a 3D support) + MHL v1.2, Audio Out 3.5mm, 12V trigger, 3D-Sync, USB service
Usually ships in 1-2 business days
Last update was on: September 3, 2022 03:56
Screen Size Range: 111-inches from 4 feet; 166-inches from 6 feet
2800 ANSI Lumens
Contrast Ratio: 25,000:1; Keystone Correction: Yes, Lens Shift: No
1-Year Limited Parts and Labor, 90-Days on Lamp
2 x HDMI (1.4a 3D support) + MHL v1.2, Audio Out 3.5mm, 12V trigger, 3D-Sync, USB service
4200 lumens and 20000:1 contrast ratio produces a sharp luminous image
Advanced Optical Lens features a 1.6x ZOOM and Vertical Lens Shift
Extensive array of connectivity options featuring dual HDMI and dual audio-in
Usually ships in 24 hours
& Free shipping
Last update was on: September 3, 2022 03:56
4200 lumens and 20000:1 contrast ratio produces a sharp luminous image
Advanced Optical Lens features a 1.6x ZOOM and Vertical Lens Shift
Extensive array of connectivity options featuring dual HDMI and dual audio-in
sRGB color profile enables vibrant and highly accurate colors via Rec709 HDTV spec
Compensate for loss of brightness with Wall Color Adjustment
6000 lumens bright output makes it ideal for large screen applications
Display Port and HDMI ports for full digital connectivity
Full 3D compatibility. Studies show information is more easily retained when material is presented in 3D
Usually ships in 24 hours
& Free shipping
Last update was on: September 3, 2022 03:56
6000 lumens bright output makes it ideal for large screen applications
Display Port and HDMI ports for full digital connectivity
Full 3D compatibility. Studies show information is more easily retained when material is presented in 3D
Over the network management and control capability makes it the perfect projector for large installations
Throw Ratio : 1.8 - 2.1:1