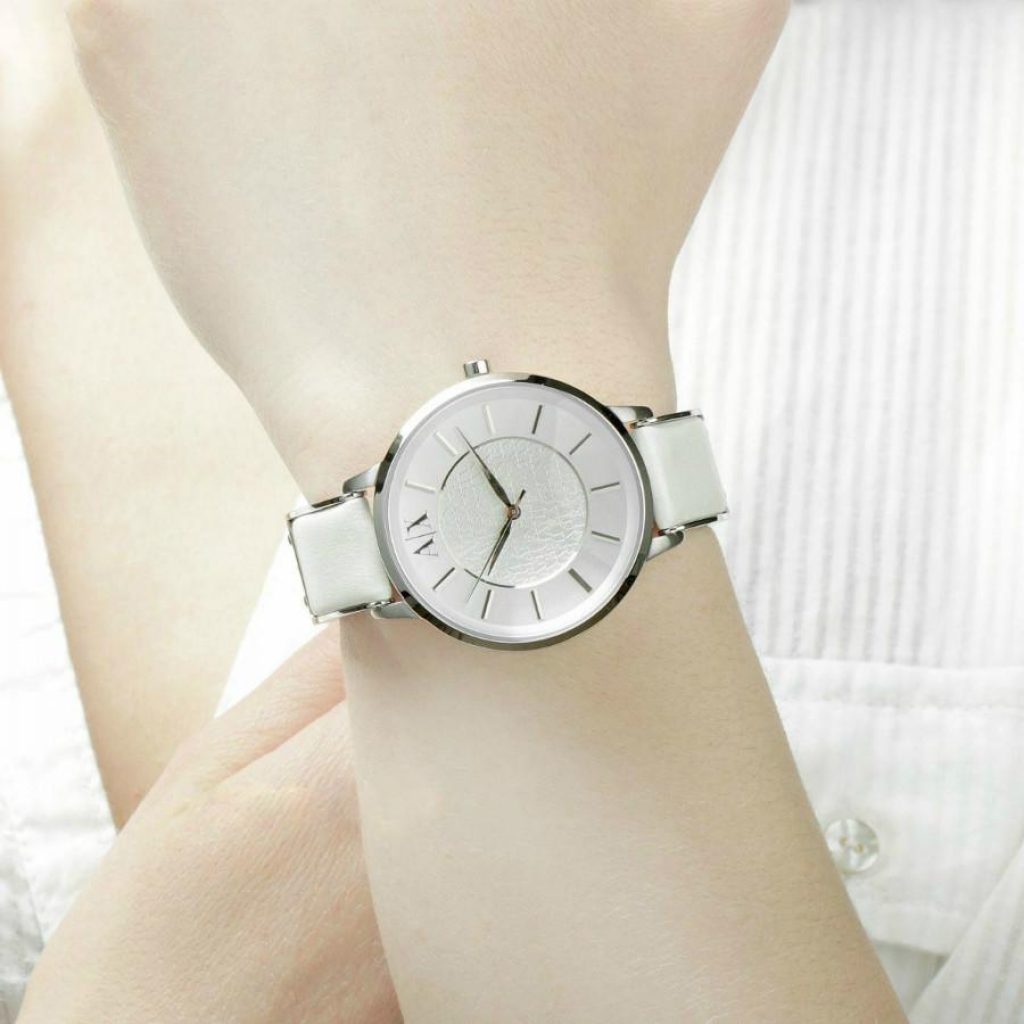 Deals & Coupons Detail Info
Amazon.com offers the 

Armani Exchange AX5300 White leather Watch

for

$67.99

.

Free Shipping to US on orders over $50.
Estimated shipping weight 2 lbs.
不能直邮到海外,建议走转运,近期低价,发货重量约2磅.
Armani Exchange AX5300 White leather Watch
About Armani Exchange
A round gold tone stainless steel case watch with white leather strap. It has luminous dial hands with crystal hour markers gold tone hands and silver tone logo.
In the mid-16th century, the 27-yearold Frenchman John Calvin broke with the Roman Catholic Church and fled to Geneva, Switzerland. Numerous French Huguenots followed him.
As a result of religious policies Calvin banned all jewelry, such as beads, bracelets, gold and gemstones.
Consequently, goldsmiths and jewelers were forced to turn to a new craft – watchmaking. It was the perfect thing to do for these highly skilled artisans.
Many of them moved north from Geneva and master mechanic Claude Bernard was one of them.
He discovered the gorgeous, almost divine, high-plateau in the midst of the Jura headlands, a secluded mountain-range along the French border.
As a tribute to his hometown Geneva (French Genève) he called this charming hideout "Les Genevez".
Most of the year Claude Bernard, like most of his companions, farmed to feed himself and his family.
But during the long and harsh winter months, when the landscapes vanished under heavy snow and the brooks were covered with ice, Claude and his fellow craftsmen created watch masterpieces.
The mechanics and skillful builders started to reinvent the workings of all kinds of timepieces.
The original 16th century house where these skilled artisans used to gather and share their tools and ideas still exists.
It has been carefully restored and today serves as a public museum.
Swiss watch manufacturer Claude Bernard is honored to be a patron of the more than 450-year-old institution, which is so closely related to their own history.
Brave innovators with ground breaking ideas were the reason why "Les Genevez in the Jura" was labelled the "birthplace of Swiss watchmaking in the northeast of Switzerland" and a pioneer of highly acclaimed Swiss quality and ingenuity.
Today, the professional watchmakers working for Claude Bernard, the Swiss watch factory in "Les Genevez – Le centre du Jura", are still filled with pride of their heritage and eager to make the finest wrist watches money can buy.
Silver-tone watch featuring applied stick indices, logo at 12 o'clock, and textured logo pattern at inner dial

38 mm stainless steel case with mineral dial window

Quartz movement with analog display

Leather band with buckle closure and metallic frame at lugs

Water resistant to 50 m (165 ft): In general, suitable for short periods of recreational swimming, but not diving or snorkeling
Armani Exchange阿玛尼AX5300女表,男友风的大表盘设计,银色与玫瑰金色的撞色搭配,时尚且精致。
Armani Exchange作为Giorgio Armani集团旗下最年轻的品牌,自1991年创立至今传承了Giorgio Armani的贵族血统,以阿玛尼其亲民价格和率性自我的独特风格越来越受年轻人的青睐。它以高品质休闲服起 家,其设计风格在贯彻简约理念的同时,务求在繁杂的都市生活中寻求自我和个性独立。
此款Armani Exchange女表,采用不锈钢材质表壳,坚固耐用。时下流行的男友风风格的大表盘,更显休闲随意。具备50米的生活防水能力,足以应对日常使用。
Silver-tone watch featuring applied stick indices, logo at 12 o'clock, and textured logo pattern at inner dial
38 mm stainless steel case with mineral dial window
Quartz movement with analog display
Leather band with buckle closure and metallic frame at lugs
Usually ships in 24 hours
& Free shipping
Last update was on: August 12, 2022 15:51
Silver-tone watch featuring applied stick indices, logo at 12 o'clock, and textured logo pattern at inner dial
38 mm stainless steel case with mineral dial window
Quartz movement with analog display
Leather band with buckle closure and metallic frame at lugs
Water resistant to 50 m (165 ft): In general, suitable for short periods of recreational swimming, but not diving or snorkeling